Teachers – here are six reasons to book our cultural education programs! 
1. Engaging Aboriginal and Māori experiences that connect Primary, Secondary and Early Childhood students to culture, heritage and history.
2. Our program range includes excursions (tours)  and incursions.

3. In alignment with traditional Indigenous pedagogy, Māori and Aboriginal Educators use hands-on experiences, storytelling, song and dance to weave past and present.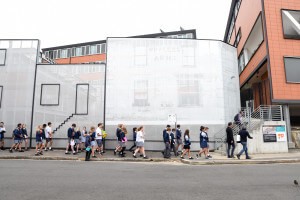 4. All education programs are curriculum-linked and Māori programs are supported with comprehensive teaching resources. 
5. Other teachers highly recommend our programs 
Wonderful excursion; The guides were fabulous; An excellent experience; Content and timing was well planned and age appropriate; Will help students understand how a site can be open to a range of historical interpretations; I would strongly recommend this tour; Guides were friendly, knowledgeable and passionate about making it the best possible experience.
6. Programs can be enhanced with Indigenous taste sensations. Bush Food and Hāngi (traditional Māori catering) are optional inclusions.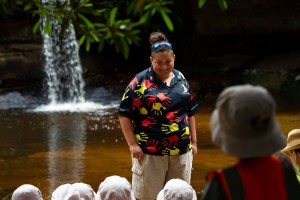 Koori Kinnections owner/head educator Jess Sinnott at Irrawong Falls.  Photo©Northern Beaches Council, photographer Karen Watson.