Cultural experiences for children and families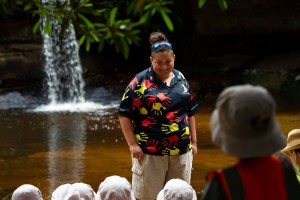 If you're wondering what to do during the summer school holidays, planning a program for an OOSH, BASC or vacation care centre, or looking for a great family gift idea, check out this list of four engaging Aboriginal and Māori cultural experiences in Sydney, New South Wales.
Photo: Koori Kinnections Owner/Head Educator Jess Sinnott. Photo©Northern Beaches Council, photographer Karen Watson. 
1. Cruise the harbour and explore an island
Get on board the 'Mari Nawi' with an Aboriginal crew and guides, and learn about Sydney Harbour from an Aboriginal perspective. This 2 hour experience includes stories, dance performance and a guided tour on Clark island. Mari Nawi means 'big boat' in local Dharug language. Aboriginal Cultural Cruises are run by the Tribal Warrior Association.
2. Visit an archeological dig site (and more!) and learn about Māori in Sydney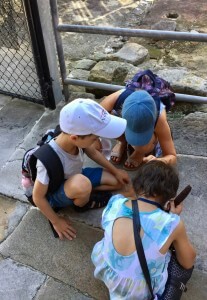 Award-winning Poihākena tours: stories of Māori in Sydney are based in The Rocks where Māori have lived, loved, visited, traded and worked for over 225 years. Walk down Māori Lane, visit The Rocks Discovery Museum and an archeological dig site where Māori greenstone treasures have been revealed, get 'hands-on' with cultural resources and hear surprising stories of Māori in Sydney since 1793. This 2-hour experience finishes with a beautiful waiata (Māori song) sung by your Māori Guide. Tours run every Saturday.
3. Take a walk with an Aboriginal Guide in The Rocks
The Rocks Aboriginal Dreaming Tour runs daily  – this 1.5 hour walking tour engages children (and adults!) with Aboriginal Sydney, past and present. Tours take place in The Rocks, run by Dreamtime Southern X.  
4. Aboriginal and Māori Cultural incursions – we come to you!
If your children attend a 'before or after school' center, make sure you let their supervisors know about these engaging cultural programs  – Aboriginal and Māori.
Run by Koori Kinnections, Aboriginal incursions offer a range of interactive activities including bushfood cooking, traditional games, guided walks, dance, art and weaving.  
Māori incursions  – Māori Guides bring a guitar, poi, sticks for games and intriguing cultural treasures to vacation care centres for a 2 hour introduction to Māori cultural heritage that includes hands-on activities, stories, songs and haka.
Gift Vouchers for families and individuals are also available. Just select 'gift card' instead of 'book a tour' via the booking links above for Aboriginal Cultural Cruises, The Rocks Aboriginal Dreaming Tour and Poihākena tours: stories of Māori in Sydney.