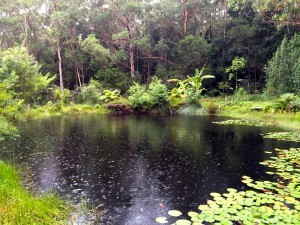 We step into a beautiful green clearing surrounded by bush. A swamp wallaby is grazing by a pond, there's pair of king parrots in a tree and the smell of burning eculypt in the air.
"Hey" calls out Uncle Noel who we haven't seen since the Waitangi Day event last week. "Should we be having a hongi?" "We're on your Country brother!" says Hohepa.
Greetings to all, then we gather around the fire. There's about 20 of us – conversations striking up as rock oysters cook in their shells on the fire and mussels steam open in a blackened billy – both gathered locally. (The NSW South Coast is well known for it's sea food, apparently one of the reasons Rick Stein has a restaurant down here). We eat from the shells – juicy, fresh kaimoana (seafood), tasting of the ocean with a hint of smoke.
Wandering back to the dining area, there's a crocodile entree awaiting us. We tuck in while sharing a few croc tales. There's a pause for introductions around the 2 long tables, before turning our attention to course three – emu rissoles on a bed of kumara mash with native herbs.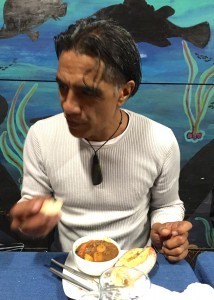 Kangaroo stew is next – tender, 'melt in your mouth' with flavours including bush peppercorns and bush pepper. The english words don't do the unique flavours justice, and between mouthfuls I mentally add knowing the local names and exploring possibilities of which of the herbs could grow in our garden to the "to do" list.
Next up is Marlin cooked in a banana leaf, served accompanied by roasted vegetables, tomatoes and a salad of fresh green leaves, native herbs and macadamia nuts.  The rain buckets down but the covered dining area is dry and there's still dessert to come …wattle seed biscuit topped with ice-cream and a vibrant pink, tangy lilly pilly coulis.
Six courses of taste sensations inside us, we help move tables and settle in as Uncle Noel and his nephews come out painted up and Noel's partner Trish picks up the guitar. For the next 30 minutes, we're absorbed by stories of Budawang Coutnry, told through song and dance.
As the performance finishes, the rain slows to a gentle drizzle and the night ends with steaming mugs of lemon myrtle or aniseed tea. Then we head out into the dark and make our way home on a country road cut through the bush – glimpses in the headlights of wallaby, wombat, countless frogs …and a tawny frogmouth owl.
A bush tucker dinner at Jamanee Gunya is much more than just dinner. It's a powerful connection to Country through delicious Indigenous food, warm hospitality, sharing of Culture and gorgeous bush setting. Thank you Uncle Noel, Trish and family for an awesome experience that we recommend to EVERYONE – locals and visitors!
Jamanee Gunya is 10 minutes from Milton on the NSW South Coast. Bush tucker dinners are run by traditional owner Noel Butler and his partner Trish, who also run The Digging Stick Art and Food cafe in Ulladulla. Bush Tucker dinners are scheduled through-out the year and can also be booked for groups (minimum 20).