Te Kupu o te Wiki, the Māori word of the week is Poihākena (Sydney). 
Poihākena stands on Gadigal Country – always has been, always will be.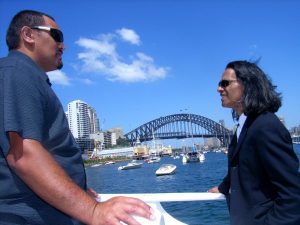 Poihākena is a transliteration of Port Jackson – Sydney.
Poihākena tours: stories of Māori in Sydney are based in The Rocks (Tallawallah) where Māori have traded, lived, loved, worked, died and visited for over 200 years. 
Kotahi Tourism is offering a chance to win an 'exclusive' Poihākena tour for a group of ten!  Too easy to enter – just use the word 'Poihākena in a sentence as a comment on our Facebook page. Here's a link to the post:  http://t.co/3gemBrBnIF
 Entries close 5PM EST Friday 31stJanuary 2015. The team at Te Wiki o Te Teo Māori, Māori Language Week will chose the winning entry, to be announced on Kotahi Tourism Facebook page on February 3rd 2015.  Give it go whanau!!