Award for Excellence – Poihākena tours
We're proud to announce Kotahi Tourism has won an Interpretation Australia 2018 Award for Excellence for Poihākena tours: stories of Māori in Sydney!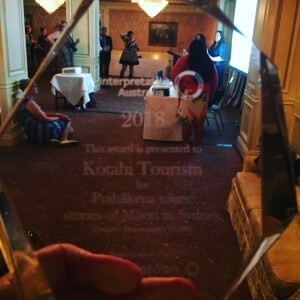 For those of you not familiar with Interpretation Australia, it's a not-for profit organisation with membership made up of the nations 'story-tellers', who interpret and share stories via platforms such as Museum exhibitions, events, audio-tours, interpretation panels, multi-media and guided tours.
It's a great honour to win this award from our interpretation peers.
"We're honoured to receive this award, thank you. We acknowledge the traditional owners of the land on which the tour takes place – Gadigal Country. We also acknowledge all Māori Tīpuna (ancestors) whose stories are shared on this tour"
This is the third award Kotahi Tourism has won for Poihākena tours – we might need to build a pool room!
Click for more about Interpretation Australia 2018 Awards for Excellence including case studies of winners and runner-ups.