Inā tata ake nei, ka whakatūria tētahi haeretanga mō te iwi Māori, me te hunga katoa nō roto o te wāhanga o Poihākena, Sydney.
Ka karangatia tēnei ritenga i tēnei wiki "Te Wiki o te Reo Māori", ko te whakatūranga – ko Poihākena tours, ngā pūrākau o te Māori, mai i mua rā anō, tae noa ki ngā wā o nāianei Poihākena ko Port Jackson – arā ko Sydney.
I tīmata mai ngā mōrehu, ngā tūpuna o te Māori i ngā takiwā o The Rocks. I reira hoki rātou e noho ana, mahi ana, hokohoko ana, tae noa kia mate noa: nō te tau 1793.
E whakahaerea ana ngā haeretanga o Poihākena tours i ia marama, ia rua marama rānei (e whai ake nei e rua hei te rā 22 me te rā 29 o Mahuru, 2018) Ka whakahaerea ngā haeretanga a Poihākena tours ki te reo tāu e pai ai, reo Māori mai, reo Pākehā mai rānei, he kaupapa e pōhiritia ai ngā kura reo Māori o Poihākena nei
He maha hoki ngā Māori e noho ana i konei. Ahakoa hoki, ngā manuhiri o Aotearoa e hīkoi mai ana ki konei, e pōwhiritia ana ngā whānautanga ki konei anō hoki!
I whakaritea tēnei tū mahi i ngā wā, 2014. I kitea hoki ētahi taonga pounamu, i roto i ngā kerikeritanga a ngā kaimahi whakatūranga whare, waharoa, rerewa rānei ka kitea te taonga mōtai (earring) 1994, me te uhi (chisel) 2012. Ēnei taonga e takoto ana i te Rocks Discovery Museum, i te taha atu o Māori Lane. Ētahi atu runaruna e pā ana ki tēnei haerenga, ko ngā mihi whakamārama, ētahi waiata me ngā pakiwaitara o te Māori, nuku atu i ngā tau 225.
I tohungia a Poihākena Tours hei Toa mō te National Trust Heritage Award for Tours me Multi-media 2015, Tour Operator of The Year (Sydney), Luxury Travel Guide Awards 2018, me Interpretation Australia Award for Excellence 2018.
He manakohanga nā Hohepa Ruhe – Kaiwhakahaere o Kotahi Tourism: "Ko ngā pūrākau o Ngā Tūpuna me ngā whānau, he mea tuku iho ēnei tikanga katoa e rātou ki a tātou kia tohaina atu, kia pā atu ai tātou ki tō rātou Ao. E pēnei ana tātou ki ngā mana whenua, ko te whenua e noho nei tātou, nō Te Iwi Moemoeā.
MEDIA ENQUIRIES: 
Brent Reihana – Poihākena Tour Guide 
E: admin@maoribusinessnetwork.com.au  Ph: + 61 417 686 141
Tour information and bookings:
www.kotahitourism.com or www.facebook.com/kotahitourism
E: info@kotahitourism.com Ph: + 61 419 836 341
(English version)
Te Reo Māori tour launched in Poi Hākena – Sydney
Kotahi Tourism announced the launch this week (Te Wiki o Te Reo Māori) of a Te Reo Māori version of their award-winning tour – Poihākena tours: stories of Māori in Sydney.
Poihākena is the Te Reo Māori word for Port Jackson – Sydney. Poihākena tours take place in The Rocks where Māori have lived, loved, traded, worked, died and visited since 1793.
Poihākena tours run once or twice a month on a Saturday (next tours Sept 22nd and 29th) with tours available on request for groups and schools. It's the group tour, which is now available in Te Reo Māori. Aimed at students of the many Te Reo Māori schools in Sydney, other Te Reo speakers in Australia (one in five Māori now live here) and visiting groups from Aotearoa, the tour in Te Reo is guided by Brent Reihana (Ngā Puhi).
Launched in 2014, the 2-hour walking tour visits the archaeological dig site where pounamu taonga (greenstone treasures) have revealed themselves – an earring in 1994, and uhi – chisel in 2012; The Rocks Discovery Museum where taonga are now exhibited, and other relevant sites in The Rocks including a walk down Māori Lane. Poihākena tours include waiata and stories of Māori in Sydney spanning 225 years.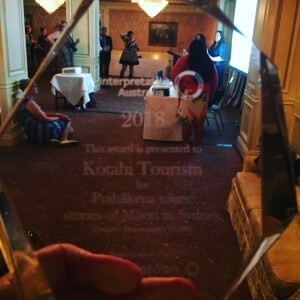 Poihākena tours have been awarded Winner – 2015 National Trust Heritage Award for Tours and Multi-media and 2018 Tour Operator of The Year (Sydney), Luxury Travel Guide Awards and (just announced on September 13th) 2018 Interpretation Australia Award for Excellence.
Hohepa Ruhe – Kotahi Tourism Director: "Poihākena tours acknowledge and share stories of our Tupuna and Whānau who came before us. The tour connects us to our own heritage and history here, while recognising this is always was and always will be Aboriginal Land."